Nottingham in the sunshine is simply exquisite!
The council always seems to make the most of 'Market Square' in the city centre and constantly has an abundance of festivals, celebrations, food stalls and sometimes even a rather cute little funfair, which is exactly what I found when I was strolling around town on Saturday with Jordan. A mixture of fairground rides, food stalls, bars and even a man made beach has all been built to look like a mini seaside resort.
Having previously been there on Saturday to take a look around, buy some milk bottle sweets to sort out my cravings (I've been addicted to them since I was a little girl) and some lunch of which Jordan bought a particularly delicious pork and stuffing roll from the hog roast stall, I decided it would only be fair to show you Nottingham's mini seaside resort since I 'had' to venture into town for a little shopping trip yesterday.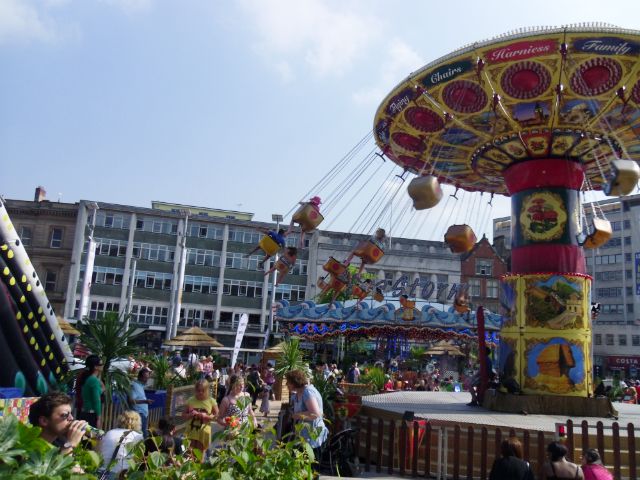 Now I don't mean to state the obvious, but a mini seaside resort in the middle of a city in this beautiful weather we're having? Fantastic! The E.ON Nottingham Riviera 2012 as it is so named is in Market Square until 28th August so there's plenty of time to go and check it out.